Videos can be embedded into a web page, or a Blackboard course, to allow users to view them somewhere other than the Video Portal.
It is not possible to control who can/cannot view a video once it is embedded outside of the Video Portal, so you must ensure that appropriate access controls are in place wherever a video is embedded. For example, if the video should only be visible once logged into the University login service (CAS) – then you need to ensure the page itself requires a CAS login.
Embedded video player sizing
There are 3 options available for video player size when embedding a video, which you can select from the dropdown menu in the Video Info section. The 3 default sizes are:
Small (560 x 315 pixels)
Medium (660 x 380 pixels)
Large (853 x 480 pixels)
You can use a custom size by changing the height and width attributes in the provided code.
Embedding a video
The steps involved to embed a video are:
Find the embed code for the video by clicking the Options button under the video on the Video Portal and choosing Video info. Copy the code from the box that appears.
The default embed size is medium, but you can change this from the dropdown box above the embed code area.
Go to the page in Blackboard where you want the videos to appear, and click on the Source Code button in the toolbar (< >) and paste the copied code into the box that appears, as highlighted in the image below.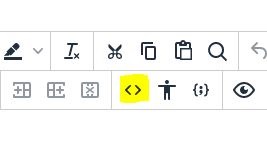 Press Save in the source code window, and you will see the video appear in the page. Press Submit in the main window to save all the changes.
Video guide to embedding podcasts in Blackboard
The video guide below takes you through the steps of embedding videos in a Blackboard course, but the process is the same for any web page.
If you need any further help or support, contact podcasting@manchester.ac.uk.