You can use the Podcast request form in the Support Centre to report issues to us.
Please note you will need to log in to access the form, and in doing so you may be redirected to the Support Centre homepage, as shown in the image below.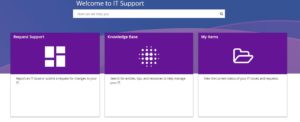 You will need to click on Request Support and search for "podcast" to find the link to the form.
Click the Request button in the popup to be taken to the correct form.
When reporting an issue, please provide as many details as possible – if it is regarding a specific podcast, send us the URL and/or course code and date/time.